REMOVABLE PURSE ORGANIZER
Keeps everything in your handbags organized!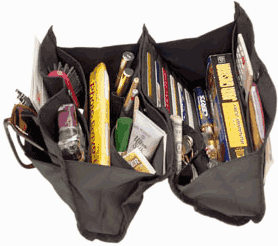 Katherine W.  from Missouri
"I was so pleased with this item, that I purchased another one for my daughter – would highly recommend this merchant and product!"
Removable Purse Organizer Highlights
SNAPS CLOSED for security. Keeps items in place.

Spacious 9″ L x 7″ H (Each Side) 

You get TWO organizers in one

joined by Velcro

Slips IN/OUT of your medium to large size bags in 5 seconds!

OVER 20 handy pockets plus TWO LARGE open sections

Protects Your Valuable Purses From Wear and Tear & Spills

RUGGED

, Long Lasting, and Washable – Only 5.5 Oz
Removable Purse Organizer
The Presto Purse™  Removable Purse Organizer organizes everything that you carry in your purse.
It has over 20 compartments to neatly and safely store and arrange all of your personal items.
One of the best design features of this removable purse organizer insert is that it is actually TWO different organizers in one. They can be separated for split style purses or can be joined for open style bags.
It is made of durable nylon and will take years of even the toughest abuse while protecting all of your valuable purses from wear and tear and accidental spills. It is light weight, and can be easily cleaned by just wiping it with a damp cloth.
The unique design lets you switch easily between any medium size purse and your larger handbags. This large purse organizer can also be placed in your briefcase, luggage, baby bag, knapsack, or duffel bag. Tons of uses!
OTHER WAYS TO USE THE PRESTO PURSE ORGANIZER
Students: Place the Presto Purse in your knapsack or briefcase. Keep everything organized!

Business Women: Separate the Presto Purse and place it in your briefcase. No need to carry a purse too.

Travelers: Fits perfectly into your luggage.

New Mothers: Just place the Presto Purse into your baby bag. You carry enough!

Workout/Pool/Beach:  Drop the Presto Purse into your duffel bag.
Does the bottom of your purse look like this?
Then ORGANIZE it with the Presto Purse Insert Organizer.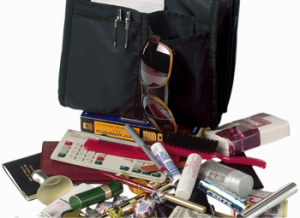 THE PRESTO PURSE INSERT ORGANIZER FITS INTO MOST MEDIUM TO LARGER SIZE BAGS
CAN BE SPLIT FOR SMALLER ONES
YOU GET TWO ORGANIZERS IN ONE
Awarded A Design Patent by the US Patent Office 
"This is the perfect purse organizer that will fit medium to larger handbags. Having the Velcro to remove half of the organizer makes it real handy whether its to lighten the load or to carry more items. If I'm shopping I often remove the half  I don't need all the time just to make carrying my larger bag a little lighter. I love love love this purchase and is well worth the money paid for it and I will have it forever to use as needed."
Jan from Chicopee, Massachusetts
"This is the best organizer I ever bought. I own 4 others but this one has the most pockets to hold items and the best overall design. It is perfectly sized for multiple glasses, credit cards, pens, makeup, you name it and there is a perfectly sized pocket. Its great that you can pull it apart also if needed."
Sharon from Florida